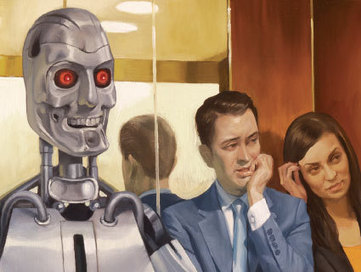 Smart machines probably won't kill us all—but they'll definitely take our jobs, and sooner than you think.
THIS IS A STORY ABOUT THE FUTURE. Not the unhappy future, the one where climate change turns the planet into a cinder or we all die in a global nuclear war. This is thehappy version. It's the one where computers keep getting smarter and smarter, and clever engineers keep building better and better robots. By 2040, computers the size of a softball are as smart as human beings. Smarter, in fact. Plus they're computers: They never get tired, they're never ill-tempered, they never make mistakes, and they have instant access to all of human knowledge.
The result is paradise. Global warming is a problem of the past because computers have figured out how to generate limitless amounts of green energy and intelligent robots have tirelessly built the infrastructure to deliver it to our homes. No one needs to work anymore. Robots can do everything humans can do, and they do it uncomplainingly, 24 hours a day. Some things remain scarce—beachfront property in Malibu, original Rembrandts—but thanks to super-efficient use of natural resources and massive recycling, scarcity of ordinary consumer goods is a thing of the past. Our days are spent however we please, perhaps in study, perhaps playing video games. It's up to us.
Maybe you think I'm pulling your leg here. Or being archly ironic. After all, this does have a bit of a rose-colored tint to it, doesn't it? Like something from The Jetsons or the cover ofWired. That would hardly be a surprising reaction. Computer scientists have been predicting the imminent rise of machine intelligence since at least 1956, when theDartmouth Summer Research Project on Artificial Intelligence gave the field its name, and there are only so many times you can cry wolf. Today, a full seven decades after the birth of the computer, all we have are iPhones, Microsoft Word, and in-dash navigation. You could be excused for thinking that computers that truly match the human brain are a ridiculous pipe dream.
But they're not. It's true that we've made far slower progress toward real artificial intelligence than we once thought, but that's for a very simple and very human reason: Early computer scientists grossly underestimated the power of the human brain and the difficulty of emulating one. It turns out that this is a very, very hard problem, sort of like filling up Lake Michigan one drop at a time. In fact, not just sort of like. It's exactly like filling up Lake Michigan one drop at a time. If you want to understand the future of computing, it's essential to understand this.