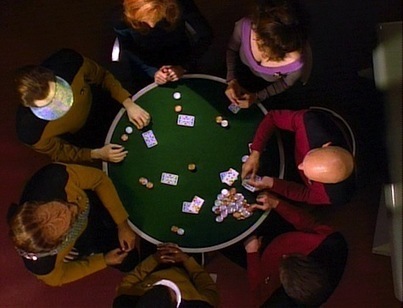 "All Good Things..."
Written by Ronald D. Moore & Brannon Braga
Directed by Winrich Kolbe

Season 7, Episode 25

Production episode 40277-747
Original air date: May 23, 1994
Stardate: 47988.0
Captain's Log: Worf and Troi have just finished a date on the holodeck, and their goodnight kiss is interrupted by Picard in his bedclothes wanting to know what the date is. He's been moving back and forth in time. He can't remember specifics—one moment he was in the past some time, before he took command of theEnterprise, talking to someone; another moment he was in the future, somewhere outdoors. His fleeting memories have such vivid sense impressions that they must be far more than a dream.
While he's in the middle of describing it to Troi, he finds himself standing in a vineyard twenty-five years in the future. He's interrupted in the tending of his vines by a visit from La Forge. Both men have facial hair—Picard is bearded and is retired from his ambassadorial career, La Forge has a mustache (and bionic eyes). La Forge's wife Leah heard that Picard had been diagnosed with Irumodic Syndrome, and La Forge wanted to check in on him.
Picard and La Forge head back to the house, but then Picard sees three people in rags jumping up and down and shouting. Then he finds himself suddenly on a shuttle with Yar, heading to the Enterprise for the first time to take command shortly before "Encounter at Farpoint." Just as the shuttle approaches the ship, he's back in the present, telling Troi that he just saw Yar.
Crusher examines Picard and finds nothing. No indication of time travel, no indication that he's even been off the ship. She also scans for Irumodic Syndrome, and doesn't find it, but she does find a defect in his parietal lobe that could, down the line, lead to a disorder, including Irumodic.
Picard gets new orders from Admiral Nakamura: the Romulans have diverted 30 warbirds to the Neutral Zone, and they've picked up an anomaly in the Devron system in the zone. Nakamura's sending 15 ships to respond, including the Enterprise, which is specifically tasked with examining the anomaly in Devron.