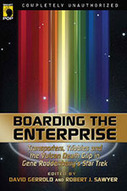 I was there, and it was never dull. Gene Roddenberry usually held the center of events, his inventive mind solving problems and, often, creating mischief. Everyone has heard about the pair of Danish-designed, futuristic-looking salt and pepper shakers our prop man, Irving Feinberg, brought in for Gene's approval. Gene designated them McCoy's handy-dandy surgical instruments (with some buttons and little lights added), instead. The props actually used in the scene looked like restaurant dispensers because, as Gene said, "Sometimes salt shakers should look like salt shakers." Another time the greensman brought in an exotic plant for approval as set dressing. Gene looked at it, pulled it out of the pot and stuck it back in upside down so the roots dangled grotesquely and announced, "Now thatlooks alien."
Gene had a different way of looking at things. Late in the second season, I did a rewrite on "By Any Other Name" (2-22), which Marc
Daniels was set to direct. The script had a problem: we couldn't figure out a way in which a small handful of aliens could capture and control a starship with a crew of 400 on board. We wrangled and wrestled with it and couldn't find an answer. Finally, we went in to Gene's office and told him our problem.
He listened, thoughtfully pushing a many-sided Mexican onyx paperweight around on his desk with his forefinger. At last, he looked up at us and said, "Suppose the aliens have a little gizmo that captures the 'essence' of a person and turns it into a block that looks like that?" He tapped the paperweight. Bingo! We posited that the gizmo had a wide range, could affect a number of people at a time and, if desired, could turn the block back into the individual(s) with no lasting harm. The prop department came up with numerous blocks, cut from Styrofoam and shaped just like the one on Gene's desk, and the aliens easily took over the ship, leaving Kirk and his bridge crew as the only people to deal with.
There were always practical jokes, of course—with Gene as the chief ringleader. In his first week as story editor, John D. F. Black was working in his office, blissfully unaware of the plot being hatched in Gene's office. Gene called John and asked if he could interview an actress in Gene's place that afternoon.
Gene was persuasive, as only the Great Bird of the Galaxy could be. He said he was very busy overseeing all the production aspects of the start-up of the series, but he had promised the lady's agent she would have an interview. John could certainly ask the appropriate questions, couldn't he? John innocently agreed that he could.
What he didn't know was the actress was Majel Barrett, who had played "Number One" in the first Star Trek pilot. Although he had seen that episode, John didn't know Majel's real hair was short and blonde (not long and dark like the wig she wore in the pilot), or that she could change her appearance quite easily with makeup. So the tall, leggy blonde in the short-skirted dress who showed up for the interview went totally unrecognized as she was escorted into John's office by his secretary, Mary Stillwell. Mary was in on it and didn't blink an eye as Gene, associate producer Bob Justman, Bob's secretary and I dashed into her office and listened at the closed door.