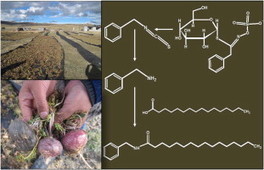 Highlights•
The bioactive natural product profiles of fresh and dried maca are distinct.
•
Bioactive amides reported for maca are exclusively present in dried hypocotyls.
•
Glucosinolate and lipid hydrolysis during drying results in amine and free fatty acid buildup.
•
Benzylamine and free fatty acid accumulation correlates well with amide synthesis.
•
VOC monitoring during drying allows an indirect measurement of amide accumulation.
Eliana Esparzaa,Antonella Hadzicha,Waltraud Kofera,Axel Mithöferb,Eric G. Cosioa, ,
Phytochemistry
Available online 25 March 2015
Via
NatProdChem