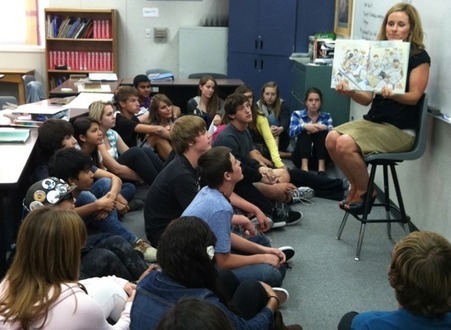 by Caitlin Tucker
"The Common Core places new emphasis on the importance of reading and analyzing complex nonfiction and informational texts. This has many English teachers feeling like their literature is under attack, but students fall in love with stories. We don't need to lose our stories in our transition to the Common Core.
"Each week, I do "story time" with my high school students. They sit on the floor and I read them a children's story. At the beginning of the year, they think I am nuts. In fact, one students said in his evaluation of the class, "I think story time was the most enjoyable [class routine]. At the beginning of the year I thought it was really weird that we were doing it when we were students in high school, but now I'm really happy that we do it because its a great way to end the class after a long day." Another student gushed, "I LOVED story time, it made me feel like I was back in Kindergarten, it was always something I looked forward to at the end of the class!"
"Clearly, students of all ages love stories. There is nothing in the Common Core that says we have to lose our stories. What has been interesting for me is to change my approach to teaching literature. Now, I ground the stories we read into real world events and issues so students see those connections more visibly. This is a great way to pull in those complex nonfiction pieces and use them to deepen our students understanding of the novels, plays and poetry they read in English."
Via
Jim Lerman
,
Sandra Carswell