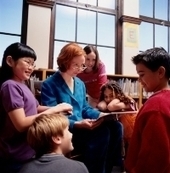 An effective school library impacts more than student achievement—it also lifts a school's entire educational climate, says a recent two-phase study by Rutgers University's Center for International Scholarship in School Libraries (CISSL) on behalf of the New Jersey Association of School Librarians (NJASL).

Researchers note that effective school libraries reflect strong cooperation, collaboration, and communication among classroom teachers, administrators and school librarians.

"Collaboration is really the key with an effective school library," says Pat Massey, a former NJASL president and the high school library media specialist at South Plainfield High School in New Jersey.

Useful brief to use as a basis for discussion between a TL and their Principal.
Via
lyn_hay