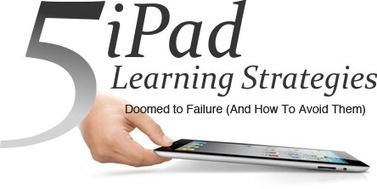 Top 5 iPad Learning Strategies
The following is a quick summary of the key iPad learning strategies that we use to guide our work at Qstream.
iPads (and smart phones) are great tools to improve access to learning and boost learner engagement. Focus on these two key benefits as you plan your strategy.
Focus on shorter, more frequent learning events. Design content nuggets to be consumed in small, bite-sized chunks. Think seconds and minutes not hours or days. Water cooler conversations and not the classroom "sage on the stage".
Recognize that the iPad experience is different. This is its strength, not its weakness. It takes more effort to support it well but the returns are significant in terms of engagement and learner satisfaction. These in turn lead to better learning outcomes.
Courses need to evolve with regular updates on the latest information. If you don't provide it, your learners will seek it out and you will lose the ability to ensure they have high quality (or even simply correct) information.
Understand that peer collaboration is an inherent part of the modern connected device. Embrace it. Support peer learning and drive engagement, motivation, and results.