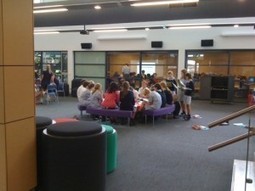 "People come from all over the world to the Sydney Centre for Innovation in Learning. Typically they come to see buildings, spaces and furniture. They leave seeing the possibility for reconstructing their own learning spaces, pedagogy, teams and thinking...

What is the best opportunity for innovation in education?

The best opportunity for innovation in education occurs when school leaders are willing to take measured risk and make structural changes to the way their learning community works. This requires a team approach and necessitates swinging all group times away from meetings and to recurrent personal professional development. Everyone in the community needs to view themselves as a lifelong learner with a potential to improve.