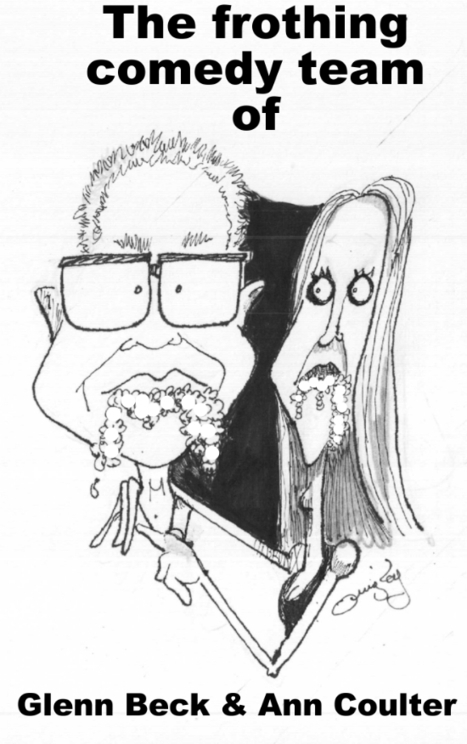 Just thought I would pay homage to my two favorite crazy people, Glenn Beck and Ann (What's with the Adam's Apple?) Coulter.
Having escaped from his padded room, Glenn has come up with a new threat to America (since most of his earlier predictions seemed to have fizzled).
Glenn Beck is promoting his idea that President Obama will establish a monarchy in America, and the beheadings will begin.
"I have a feeling we're headed for a monarchy because we have forgotten the principles of maximum liberty and maximum personal responsibility, which in time, always ends — if you are like Europe — it ends in a French Revolution. But maybe it doesn't end this way. Maybe this time, maybe Marie-Antoinette and King Louis keep their heads, while all of their subjects lose theirs. One way to make sure that doesn't happen is to stand up for your Second Amendment rights".
I am sure he is scheduling his militia for regularly assembled musters since a well regulated militia is the purpose of that amendment.
Meanwhile his fellow wing nut, Ann, has, once again, taken something out of context with a little twist so she can mislead anyone who actually takes her seriously.

When asking a congressman about gun control, Martin Bashir brought up the typical scenario where something is irrelevant or unimportant until it directly affects someone.
Bashir said, "is that what needs to happen to move these senators to stop threatening a filibuster? Is that really what needs to happen? That you need to have a member of your family killed in order for you to do what the American people want you to do?".
Anne Coulter's take was, "MSNBC's Martin Bashir suggested that Republican senators need to have a member of their families killed for them to support the Democrats' gun proposals. (Let's start with Meghan McCain!)".
No. He didn't.
But that is just Ann's habit of misrepresentation.
Via
Michael Charney