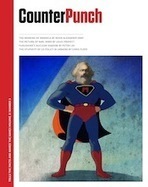 Let's start with a flashback to February 1992 – only two months after the dissolution of the Soviet Union. First draft of the US government's Defense Planning Guidance. It was later toned down, but it still formed the basis for the exceptionalist dementia incarnated by the Project for the New American Century; and also reappeared in full glory in Dr Zbig "Let's Rule Eurasia" Brzezinski's 1997 magnum opus The Grand Chessboard.
It's all there, raw, rough and ready:
"Our first objective is to prevent the reemergence of a new rival, either on the territory of the former Soviet Union or elsewhere, that poses a threat on the order of that posed by the Soviet Union. This … requires that we endeavor to prevent any hostile power from dominating a region whose resources would, under consolidated control, be sufficient to generate global power. These regions include Western Europe, East Asia, the territory of the former Soviet Union, and Southwest Asia."
That's all one needs to know about the Obama administration's "pivoting to Asia", as well as the pivoting to Iran ("if we're not going to war", as US Secretary of State John Kerry let it slip) and the pivoting to Cold War 2.0, as in using Ukraine as a "new Vietnam" remix next door to Russia. And that's also the crucial context for Obama's Pax Americana Spring collection currently unrolling in selected Asian catwalks (Japan, South Korea, Malaysia and Philippines).