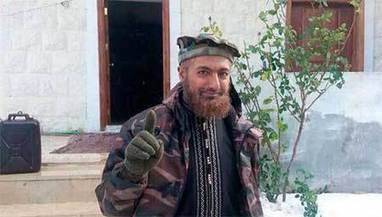 Ibrahim Bin Shakaran, a Moroccan who spent more than three years at the Guantanamo Bay detention facility before being released to Moroccan custody, has been killed while leading a jihadist group that fights Syrian government forces.
Bin Shakaran, who is also known as Abu Ahmad al Maghribi, Abu Ahmad al Muhajir, and Brahim Benchekroune, was "martyred, Insha'Allah, in battles for Hilltop # 45 in Latakia," according to Kavkaz Center, a propaganda arm of the Islamic Caucasus Emirate.
Bin Shakaran led a jihadist group known as Sham al Islam, which is based in Latakia and is comprised primarily of fighters from Morocco, according to the Washington Institute for Near East Policy. Bin Shakaran created the group "not only to recruit fighters for the Syria war, but also to establish a jihadist organization within Morocco itself."
Sham al Islam has been fighting alongside the al Qaeda's Syrian branch, the Al Nusrah Front for the People of the Levant, as well as Ahrar al Sham and the Army of the Emigrants and Supporters in an ongoing offensive in the coastal province of Latakia.


Read more: http://www.longwarjournal.org/archives/2014/04/former_guantanamo_de_2.php?utm_medium=twitter&utm_source=twitterfeed#ixzz2xtffjrJc