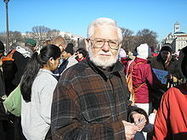 « "France no longer recognizes its children," lamented Guillaume Roquette in an editorial in the Figaro weekly magazine in Paris. "How can the country of Victor Hugo, secularism and family reunions produce jihadists capable of attacking a kosher grocery store?" 1
I ask: How can the country of Henry David Thoreau, separation of church and state, and family Thanksgiving dinners produce American super-nationalists capable of firing missiles into Muslim family reunions in Pakistan, Afghanistan, Yemen, and Somalia?
Does America recognize its children? Indeed, it honors them. Constantly.
A French state prosecutor stated that "A network of French Islamists behind a grenade attack on a kosher market outside Paris last month also planned to join jihadists fighting in Syria." 2 ... »