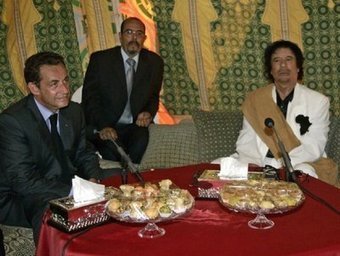 The Swiss account was opened in the name of the sister of Jean-Francois Cope, the leader of Sarkozy's UMP party, and the president's right-hand-man.
The money was then allegedly distributed through an arms dealer called Ziad Takieddine, who acted as a middleman between Arab leaders and French politicians.
In March 2011, as France and Britain spearheaded air strikes against Libya, Gaddafi's son Saif al-Islam told Euronews TV that Libya had financed Sarkozy's 2007 election campaign, which Sarkozy's office also denied at the time.
Saif, who was arrested after the fall of his father's government said, "Sarkozy must first give back the money he took from Libya to finance his electoral campaign.
We funded it."We have all the details and are ready to reveal everything. The first thing we want this clown to do is to give the money back to the Libyan people. He was given the assistance so he could help them, but he has disappointed us. Give us back our money."
In December 2007, eyebrows were raised when Col Gaddafi was honoured with a state visit to Paris.
Via
Tatjana Dimitrijevic