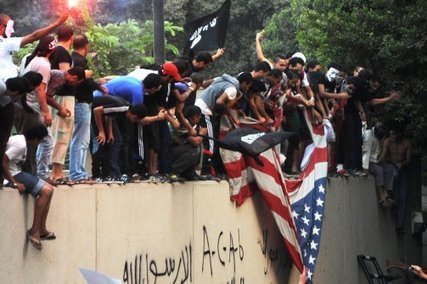 In a dispatch sent the day he was killed, Ambassador Christopher Stevens described how the militias keeping the peace in Benghazi threatened to quit over a political feud. Eli Lake reports.
"Just two days before the 9/11 anniversary attack on the U.S. consulate in Benghazi, two leaders of the Libyan militias responsible for keeping order in the city threatened to withdraw their men.
The brinksmanship is detailed in a cable approved byAmbassador Chris Stevens and sent on the day he died in the attack, the worst assault on a U.S. diplomatic mission since the 1979 hostage crisis in Iran. The dispatch, which was marked "sensitive" but not "classified," contained a number of other updates on the chaotic situation on the ground in post-Gaddafi Libya.
The cable, reviewed by The Daily Beast, recounts how the two militia leaders, Wissam bin Ahmed and Muhammad al-Gharabi, accused the United States of supporting Mahmoud Jibril, the head of the Libyan transitional government, to be the country's first elected prime minister. Jibril's centrist National Forces Alliance won the popular vote in Libyan elections in July, but he lost the prime minister vote in the country's Parliament on Sept. 12 by 94 to 92. Had he won, bin Ahmed and al-Gharabi warned they "would not continue to guarantee security in Benghazi, a critical function they asserted they were currently providing," the cable reads. The man who beat Jibril, Mustafa Abushagur, lost a vote of no-confidence Sunday, throwing Libyan politics back into further uncertainty. "