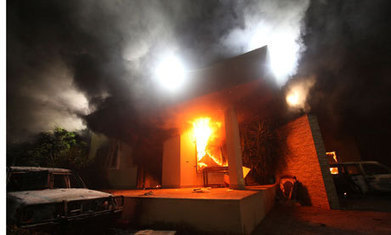 "The violent attack on the US consulate in Benghazi leading to the death of ambassador Chris Stevens and three aides, and subsequent assaults on western diplomatic offices in Yemen, Egypt, Tunisia and elsewhere are evidence of a wilting of the Arab spring, for which the west bears considerable responsibility. To blame are the west's impatience, its belief that democracy can be imposed in a hurry from the outside, and its insistence that resistance to democracy must be the consequence of a few aberrant actors and isolated terrorists.
US secretary of state Hillary Clinton, who at the time of Muammar Gaddafi's violent death rightly said "now comes the hard part", acknowledged after the heinous assassinations in Benghazi that she was "confounded". "How could this happen?" she asked, and in a country whose revolution we supported and whose dictator Nato helped overthrow?
In truth, this tragic murder of a diplomat who was a friend of the Libyan revolution was not a just a confounding aberration in a "city we helped save from destruction" (in Clinton's words). Rather it is evidence of ongoing chaos that has afflicted Libya since the welcome overthrow of Gaddafi's regime. And a symptom of just how long and perilous the path is from a revolution that decapitates a dictator to a stable democracy in which the rule of law is systematically enforced.
In the past months, the National Transitional Council, the elected national congress and the new prime minister have proved themselves, for all their admirable intentions, incapable of enforcing law and order against the scores of tribal militias who actually rule Libya. Here are just a few disturbing highlights from the recent anarchy: ... "