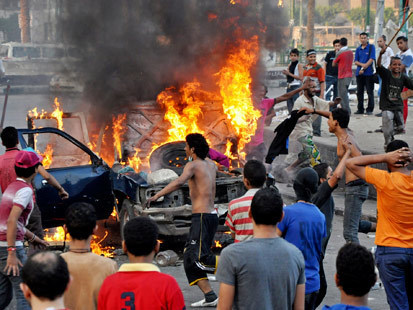 "Al Qaeda's branch in Yemen praised the killing of the U.S. ambassador to Libya as a "great event" today, and urged followers to kill other American diplomats across the Muslim world.
But the violent anti-American protests that rocked the capitals of some 20 nations from northern Africa to southeast Asia on Friday, causing at least six deaths, largely subsided.
In Egypt, where Islamic fury first erupted over a crude amateur film produced in the United States denigrating the Prophet Muhammad, security forces moved today to end the demonstrations around the American embassy in Cairo.
They cleared the streets around the U.S. compound and nearby Tahrir Square, using tear gas and arresting scores of protesters who refused to disperse. They also expanded barriers blocking access to the embassy.
The Egyptian interior minister inspected the area for himself and said "our presence here is to clear the square of people who are breaking the law," adding, "We must preserve the square as a symbol of the revolution. That is the aim of our operation."
Issuing a stern warning, he said measures would be taken to ensure "those breaking the law" do not return. ... "