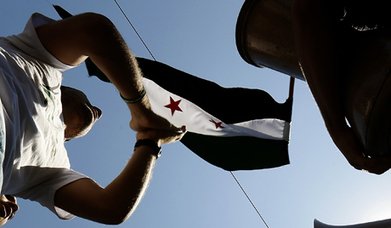 "Just like during the operation in Libya the West is conducting an intensive information war to overthrow the regime in Damascus. Bloggers have even caught Die Kroner Zeitung publishing a fake photo.
Die Kronen Zeitung, one of the central newspapers in Austria, has joined this information war. In its story about the war in Syria it used Photoshop following the example of the Qatari film studios, which created fake footage about the brutality of the Muammar Gaddafi regime. Those films were financed by Saudi Arabia.
Back then many Arab mass media outlets caught Qatar distorting the events in Libya. Recently, bloggers have caught Die Kroner Zeitung publishing a fake photo. The photo shows a family of refugees against the background of the ruined city of Aleppo, which is the economic capital of Syria. The man is holding a child in his arms and the woman is in a headscarf are walking the street gripped by the flames of war. The comment under the photo read: the tanks of the army of Assad are laying the road to Aleppo, the stronghold of the opposition. ..."