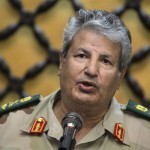 "A year ago today, Major General Abdelfattah Younes Al Oubaydi, the Chief of the Libyan National Liberation Army during the revolution was assassinated in Benghazi.
Oubaydi was shot on July 28th in front a hotel, immediately before he was to hold a meeting with the newly formed National Transitional Council. The identity of his killer is severely contested with some saying that he was shot by a member of Al Qaida, while others claim it was a Gaddafi loyalist. ... "
Check the Video Of what Alaqeda Rebels did with Younes http://www.youtube.com/watch?v=YvjNclpwLUU&feature=player_embedded 
What will be the next Invention? Gaddafi Killed by his wife and sons Disguiseds of Rebels?