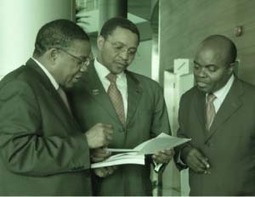 « ... "Most Sadc members states, particularly South Africa, Zimbabwe, Angola, Tanzania, Namibia and Zambia which played a key role in the southern Africa liberation struggle, were not happy with the way Jean Ping handled the Libyan bombing by Nato jets last year."
The official said Sadc leaders felt that Libya, and in particular its charismatic leader the late Muammar Gaddaffi, was not defended by Africa through the AU.
The diplomat revealed why Sadc put into use all its diplomatic resources to defeat the Gabonese diplomat, saying:
"Gadaffi was a hero to South African liberation fighters. He offered unlimited military and financial support to them during the struggle. So when they saw their hero being hit, with the AU Commission deliberately holding back any diplomatic support to save him, they waited for the right time to come to punish Jean Ping."
The South African senior diplomat's argument was supported by the minister for Foreign Affairs and International Cooperation, Mr Bernard Membe, who gave details of the reason for Jean Ping being shown the door come rain or sunshine.
"Colonel Gaddafi and, by extension, Libya did everything to get the AU where it is today. How come such a dear son of African being left to fight alone a machination of foreign forces in the name of Nato?" Wondered the minister during an interview in the Ethiopian capital of Addis Ababa.
... »