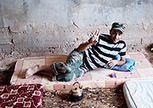 It is presumed that Libyans under the reconciliatory liberal Mahmoud Jibril can regulate their ways out of their woes.
(...)Cruelty coupled with nepotism and corruption does have a cost. That should be the powerful message emanating from the NTC. (...)
«"This brutal death highlights the continuing dangers to detainees in the new Libya," Hassiba Hadj Sahraoul, the Middle East and North Africa deputy director of Amnesty International said. "How many more victims will die from torture until the authorities realise the gravity of the situation and deliver on their promises of investigating, prosecuting and putting an end to such crimes," she added.
Militias from Misrata drove out the entire population of Tawargha in August 2011. Many have been publicly denounced politically and accused of treason. These incidents are not merely tribal skirmishes -- these barbarous acts are clearly racially motivated.
The blacks of Libya are entitled to feel hard put-upon. Nothing brought home the horrors of the mistreatment of the blacks of Libya in the post-Gaddafi era than the callous murder in cold blood of a citizen of Tawargha. Sadly, the murderers of the man cannot be brought to justice.
Jibril faces a groundswell of bitter opposition in spite of his impressive achievements in an almost fair election. Understandably Libya has been traumatised by the events. Libya needs a raft of new anti-torture legislation. Jibril has presented himself as a man who wants to unite all Libyans, regardless of their political persuasions. The pertinent question is whether the pawns of war will ultimately give him their backing.»