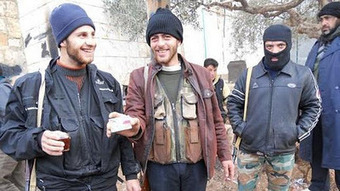 One of them turns out to be an old acquaintance of the reporters who covered the war in Libya:
Mehdi al-Hatari, the former commander of the Brigade of Tripoli, which played a key role in taking the capital and the fall of Gaddafi. The second, Adem Kikli, says he works for Belhadj, and for almost two decades living in exile in the UK. The third, Fuad, seems to be a bodyguard.
"We are here on our own personal initiative, not by command of anyone," said Adem. He emphasizes that Harati publicly renounced his position in Tripoli on 11 October. Adem also claims that he has been with other Libyans, "a few dozen', which have moved to Syria on their own to help the insurgents.
Via
Libya S.O.S.