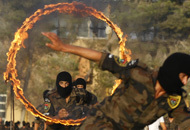 Libya's elections passed peacefully, but observers should have no illusions about the momentous challenges ahead, especially the task of rebuilding and formalizing the country's security services.
(...)
"Between these two bodies, the more problematic is the SSC. The force is estimated to consist of 90,000 to 100,000 fighters. These men, ostensibly revolutionaries, have acted act as a sort of national gendarmerie, providing transitional security at the local level, particularly during the election period. But ominously, the SCC has not managed to break down the fighters' old allegiances: entire brigades have joined en masse and their commanders have simply switched hats. This is particularly the case in Derna, a longtime hub of Salafi militancy. Here, a local Salafi brigade, the Abu Salim Martyrs' Brigade, which is known for its vendettas against Qaddafi-era security officials and its ties to more radical Salafi groups like the Ansar al-Sharia, is now enforcing security as the town's branch of the SSC. Among some Libyans, the incorporation of the Abu Salim Martyrs' Brigade into the SSC represented a victory: the integration of a troublesome band of fighters into the orbit of the state. But such views are naive: the relationship between the government and local SSC-incorporated brigades will hold only as long as interests overlap.
The SSC system and the transitional government's demobilization programs work at cross-purposes. Pay for fighters who join an SSC-incorporated brigade is higher than what most Libyans could hope to make on the outside, so fighters have little incentive to leave and recruits have reportedly flocked to join. Many Libyans have feared the SSC as unruly thugs, who are distinguished only by hastily made logos on their T-shirts. Increasingly, though, there are signs that the SSC is becoming a more formalized unit -- the uniforms have gotten better and the SSC now has a Web site. In other words, it looks like the SSCs are not going away anytime soon.
The Libyan Shield Force, meanwhile, is a coalition of militias from the east, Misrata, and Zintan that acts in parallel with Libya's national army. ... "