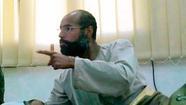 TRIPOLI , Libya — Blood pours from the man's head, collecting in a pool on the concrete floor. Minutes before he had stood stripped to his underwear and pleading.
(...) Retribution is the new law of the land in Libya. Summary executions, arbitrary arrests, torture and indefinite detention have emerged while the judicial system remains in a state of paralysis. ..."
Calling Torture and Executions "Retribution" seems to be strange ... if the target are Prisoners. And Prisoners of Black skin!