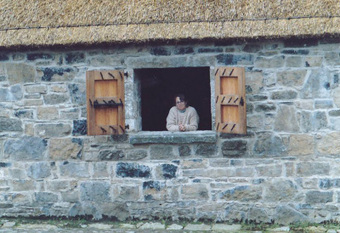 It seems like a dream after almost 23 years. Even while we were there, driving the twisting country roads -- inevitably lost -- Ireland had a dreamlike quality that made it perfect for a honeymoon....
Friends were surprised at our plans to honeymoon in Ireland. "But you aren't Irish," they said, foreheads wrinkled with puzzlement. Why do people assume the only reason to go to Ireland is to look for roots? In Ireland, everyone asked if we were Irish. When we said we weren't, they would say "Are you sure?" We said we were sure. It turned out one of us was wrong.
Ireland was wonderful. From Dublin to Sligo, through Shannon, Galway, Cashel and all the lovely cities and villages in between, everyone we met was friendly and welcoming. When folks learned we were honeymooners, we were treated to free rounds of drinks, desserts, and upgraded accommodations — at no charge. Even on the airplane, we were moved up to first class. Way to go.
We stayed in bed and breakfasts. Using the National Tourist Board
guidebook and a road map, we'd zero in on a destination and phone ahead. Every place we stayed was spotlessly clean and comfortable, although often tiny by American standards.