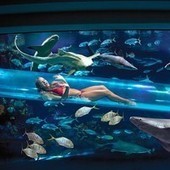 Sharks, hot springs, mountain vistas, water elevators -- all without having to leave room service delivery range
When temps are brick-oven high and humidity levels surge past "swamp-like," there's nothing like a quick swim to cool you off during a business trip or vacation.
Throw in monster views, insane settings and ingenious design, and the pool becomes more than just a watering hole. It's the ultimate place to chill. Literally.
These amazing U.S. hotel pools are the coolest part of any trip.