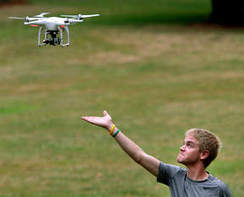 Two drone aircraft operated by local residents captured high definition aerial footage of the July 17 fire that destroyed the Springfield Veneer and Plywood mill. The videos have each garnered more than 11,000 views on YouTube.
Eugene Springfield Fire Chief Randy Groves said it's the first use of drones he's aware of during a fire in the local area.
Their presence illustrates the increasing use of drones and national debate about privacy and safety when they're in the air.
The operators of the two drones said they wanted to provide a new perspective on the July 17 fire. Their videos capture the fiery catastrophe occuring hundreds of feet below.
"It's a different way of looking at a fire, and it's amazing," said Ryan Levenson, a 20-year-old University of Oregon student majoring in business and journalism.