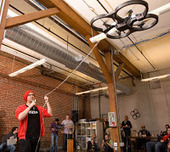 AR Drones can be much, much more than awesome toys. Just recently, we've see how the (relatively) inexpensive and versatile flying robots have been used as research tools, but the sky's the limit as to what you can do with them, so to speak. DroneGames, which took place over the weekend in San Francisco, tasked programmers with hacking the UAVs in the most interesting and creative ways possible.
In third place was "TooTall Nate," with a hack that lets you an AR Drone over a cellular networks with a Verizon MiFi card, resulting in unlimited range as long as you've got a decent cell connection.

Second place went to a team of freshmen from Stanford, who figured out a way to control lots of different drones with just one computer. They'll be putting it up on Github, just search for "multidrone."

And in first place was James Halliday, who wrote a virus that will infect an AR Drone, and then use that drone to infect any other AR Drones it comes across, "causing them all to be p0wned and run amok." Or if you want to be less evil about it, it's a handy way to automatically deploy software onto a bunch of AR Drones at once. It's available on Github under "virus-copter."
A crowd favorite seemed to be the project in the picture up top, from engineers at Groupon. They taught a drone to behave itself on the end of a leash, which is neat, but it's also constantly taking pictures and performing facial recognition, posting the resulting images to Twitter in real-time.
Via
dhorn