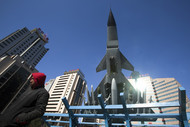 China Aerospace Science & Industry Corp., the nation's biggest maker of non-military drones, expects to double unmanned aerial vehicles sales next year as sovereignty disputes spur government orders.
The country intends to increase monitoring at sea amid a row with Japan about the ownership of islands in the East China Sea, Huang Xingdong, deputy head of CASIC's drone-making arm, said in a Nov. 13 interview at the Zhuhai airshow. The state- owned company signed an agreement to supply an undisclosed number of drones to an oceanic agency at the expo.
"The government is attaching greater importance to ocean intelligence gathering as the islands disputes heat up," Huang said. He declined to give an exact sales forecast. The company also makes missiles and parts for China's space program.