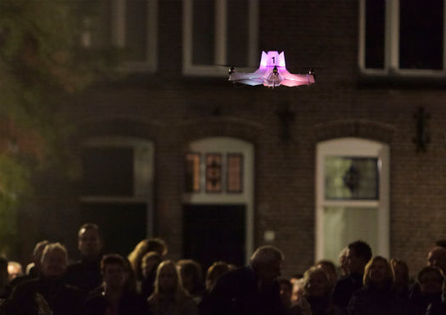 A few days ago The Pirate Bay announced that in future parts of its site could be hosted on GPS controlled drones. To many this may have sounded like a joke, but in fact these pirate drones already exist.
Liam Young, co-founder of Tomorrow's Thoughts Today, was amazed to read the announcement, not so much because of the technology, because his group has already built a swarm of file-sharing drones.
"I thought hold on, we are already doing that," Young told TorrentFreak.
Their starting point for project "Electronic Countermeasures" was to create something akin to an 'aerial Napster' or 'airborne Pirate Bay', but it became much more than that.
"Part nomadic infrastructure and part robotic swarm, we have rebuilt and programmed the drones to broadcast their own local Wi-Fi network as a form of aerial Napster. They swarm into formation, broadcasting their pirate network, and then disperse, escaping detection, only to reform elsewhere," says the group describing their creation. (...)
Besides the artistic value, the drones can also have other use cases than being a "pirate hub." For example, they can serve as peer-to-peer communications support for protesters and activists in regions where Internet access is censored. (...)
In short the system allows the public to share data with the help of flying drones. Much like the Pirate Box, but one that flies autonomously over the city.
Via
dhorn