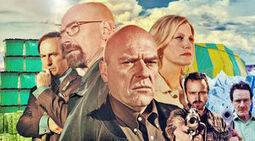 'People who make television don't often have time to watch a lot of television shows--at least not as they air....
...
Is it really time for Breaking Bad to come to a close or is there more story to be told?
Cuse: I encouraged Vince to end the show. We talked way back when Damon [Lindelof] and I were on Lost about the virtues of taking your story to an end point, and I think as a storyteller in television you want to advance your narrative from A to Z. There's just great reward in that, and he has just done such an amazing job of connecting with his audience.
I'm just so excited about seeing this last batch of episodes because I feel like it's going to be conclusive, and you can do things when you're ending your story that you just can't do other times....'
Via
siobhan-o-flynn