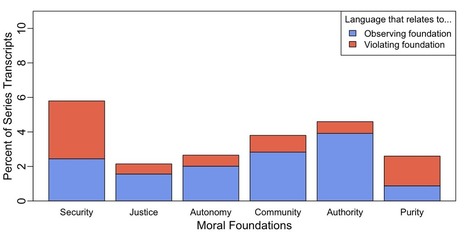 "As a society we face a range of complex, systemic issues. Often, we use language to understand and clarify both problems and solutions. Take current debates on taxation. The morality of reducing marginal tax rates remains open for debate, but the phrase "reducing marginal tax rates" lacks any moral color—it is relatively neutral. On the other hand, the phrase "tax relief" suggests positive values of "compassion," "care," or even "charity." The very language that we use to describe these issues shapes our moral perceptions.
Different groups emphasize different moral foundations.
With recent developments in data analysis tools, we can access such moral language at large scales. Linguistic analyses of massive collections of text have proven useful for discovering both what people talk about [1] and what they feel about what they talk about (e.g. implied sentiments [2] and various implied personality traits [3]).
Recently, moral psychologists [4] have applied linguistic analysis to the problem of uncovering the differing "Moral Foundations" that different cultural groups rely upon when constructing persuasive messages (the moral color of the message). Moral Foundations Theory [cf. 5] posits six cross-cultural themes: 1. Security, 2. Justice, 3. Autonomy, 4. Community, 5. Authority, and 6. Purity. Table 1 lists some of the core concepts entailed by each foundation. Different cultures and subcultures, at different times, emphasize particular moral foundations over others. For example, Graham et al. [4] found that "liberal" speakers color their messages with the language of security and justice; the remaining foundations dominate the "conservative" palette...."
Via
siobhan-o-flynn