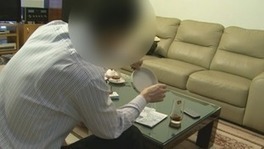 "Would you like to drink some?" Mr Lee, not his real name, asked me. I politely declined.
He did not want us to film his face, but he was happy enough to show me how he makes his rhino horn potion. He was now offering it to me.
He used a plate, specially made for grinding horn, it even had a picture of a Rhino on the side. For 15 minutes he had rubbed a chunk of horn round and round on the plate, mixing it with a small amount of water until he was happy with the solution....
Via
Wildlife Margrit