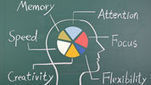 Margaret Moore, co-founder and co-director of the Institute of Coaching at McLean Hospital/ Harvard Medical School, answers all our burning questions about how to sift through the chaos of the digital age and organize our lives and minds.
Organization, she says, is not just about a cluttered desk. It's about self-regulation, a skill that is developed by the pre-frontal cortex--the seat of executive function in the brain. The left pre-frontal cortex regulates your attention: it evaluates, judges, makes decisions. Modern life, with its barrage of incoming emails and phone calls and texts, taxes the pre-frontal cortex, inhibiting the brain's ability to focus. Those who have naturally strong self-regulation can handle the overload—and those who don't are left feeling guilty and out of control.

But the plasticity of the brain means we can all learn to be better focused and more organized.
Via
Pamir Kiciman