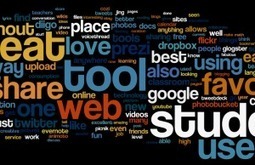 "Project-based learning is one of the most popular terms in education innovation today. We talk about PBL all the time and how it, combined with flipped classrooms, can basically change the way education works. It's an exciting time to be sure.

But I love to actually see how this kinda stuff works in real life. It's easier to just say 'try out Project-Based Learning!' to a teacher asking for innovative ideas … but it's better to actually see how it all works. I stink at making videos but luckily others don't. So I've compiled a few videos that act as simple windows into the PBL world.

Each video is a bit different. For example, the first one on this post is mostly viewing a PBL setup as a fly on the wall. You can overhear what people are saying, look at how they're organized, etc. This video is from Ginger Lewman at ESSDACK and so is the second one that demonstrates some PBL demo cards..."
Via
Jenny Pesina