Scoop.it!
From the virtual to the real, discovering the world in 4D by leaving our screens behind: the potential of outdoor learning in a digital age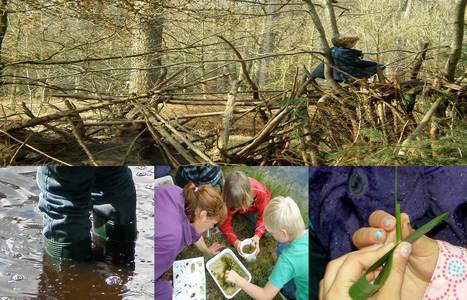 Rebekah Tauritz's insight:
A new study reports on the results of a three year longitudinal study of children (age 8‐10) who participated in NatureWise, a nature immersion programme that takes children into the forest under the guidance of a forest ranger three times a year. NatureWise (NW) is a carefully designed programme that requires school‐based preparation for each of the so‐called forest days as well as school‐based reflection on the significance and lessons learnt of each on those days. The programme seeks to develop 'head' (development of cognitive understanding of ecological principles and life in and management of the forest), 'hart' (development of affective, emotional bonding with nature and associated values) and, 'hands' (development of psycho‐motor skills needed to care for nature).
An experimental design was created that included 6 primary schools, 3 from urban areas and 3 from more rural areas. In each school for each participating grade a NatureWise‐class was followed as was a control class which did not participate in NW but followed the normal nature education programme that can be considered typical for most Dutch primary schools. Within each class a group of eight pupils was followed more intensively to obtain a deeper understanding of the children's development. Children's concept‐maps and activity booklets (in year 1 and year 3 of the study) were analyzed as well as interviews with the eight focus children from each class. In addition all participating teachers (n=24) were interviewed about their understanding of nature education in general and NW in particular (for those who participated in NW) as well as about the changes they observed in the children and about the influence of the children's home‐situation on their exposure to and connection with nature. In addition classes were observed periodically during lessons about nature. In total 185 children between the ages of 8 and 10 participated in the study. Methodologically the study can be classified as a phenomenological.
The research shows that most children, not all, benefit from participating in NW frequently over a 2‐3 year which is expressed in an increase in knowledge of nature, deepened sensory and affective engagement with nature, and more sensitive behaviour towards nature. The added value of NW lies is multiple: children are in a position to establish direct contact with nature, children gain more confidence and interest in nature which helps them understand information about nature that comes to them through the media, children are better positioned to develop empathy towards another species, children come to see the importance of caring for nature, children are given hands‐on opportunities to care for nature, and, finally, children get to enjoy being in nature aesthetically, psycho‐motorically and intellectually. All this combined makes children more inclined to actively seek nature. The research therefore confirms the key premises of experience‐oriented nature education programmes, although it should be noted 10 that not all participating students display such a development and that in the control group some students display a similar development under favourable conditions in the school and/or home environment.
See the full report (in Dutch with an English Abstract) for more results.
Toen ik er meer over ging weten werd het leuk: arjenwals.files.wordpress.com/2013/01/toen-ik-er-meer-over-ging-weten-werd-het-leuk-compleet3ukabstract.pdf
The study was conducted by a team of researchers consisting of Marlon van der Waal and Dieuwke Hovinga (OVC-Advies & Lector Hogeschool Leiden) – who both did the bulk of the research – and Kris van Koppen (Environmental Policy Group, Wageningen University) and Arjen Wals (Education and Competences Group, Wageningen University).