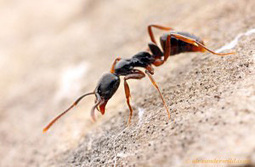 A crusade to invade that began in North Carolina has spread to the Midwest, Pacific Northwest and even to an island packed with concrete and glass – Manhattan.

So go the travels of the Asian needle ant, an invasive species native to Japan.

Asian needle ants may live under a rock or tree limb near you. Help repel their insidious invasion by joining the School of Ants project at:

Citizen scientists connected with the School of Ants project – which asks amateur scientists to find and report on what's crawling near their homes and schools – are unearthing Asian needle ants far away from the Carolinas.

Asian needle ants don't play well with native ants, says Dr. Rob Dunn, an Associate Professor of Biology [in the College of Agriculture & Life Sciences] at NC State, and founder of the School of Ants project. ...