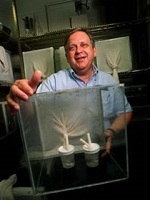 William Neal Reynolds Professor of Entomology, Dr. R. Michael Roe, has been named a 2012 Fellow of the Entomological Society of America.
A Professor in the Department of Entomology and the Department of Environmental and Molecular Toxicology at North Carolina State University in Raleigh, NC, Dr. Roe "is internationally recognized for his research in insect and acarine physiology, biochemistry, genomics and toxicology, and the use of fundamental research in chemistry, nuclear science, and biology to solve practical problems and develop new commercial technologies."
"The election as a Fellow acknowledges outstanding contributions to entomology in one or more of the following: research, teaching, extension, or administration. The following Fellows will be recognized during Entomology 2012 -- ESA's 60th Annual Meeting -- which will be held November 11-14, 2012 in Knoxville, Tennessee."