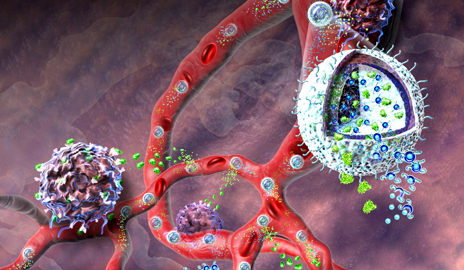 Yale University scientists have developed a new mechanism for attacking cancerous tumors that intensifies the body's immune response while simultaneously weakening the tumor's ability to resist it. Tumors — in this case metastatic melanomas, or spreading skin cancers — are adept at overcoming their host's natural defenses, in part by emitting agents that disrupt production and operation of the immune system.
The Yale team developed a new biodegradable nanoparticle that delivers a combination of two very different therapeutic agents to tumor sites, gradually releasing the agents into the tumor vasculature. One agent, a large soluble protein called a cytokine, stimulates the body's innate immune response. The other, a small-molecule inhibitor, interferes with the tumor's ability to suppress the immune response. Other drug combinations are possible.
In tests on live mice, the double-loaded particle, called a nanogel, significantly delayed tumor growth and increased survival, the researchers report. They administered the nanogels intravenously and, in separate experiments, directly into the tumors. Further animal tests are planned.
Via
Dr. Stefan Gruenwald