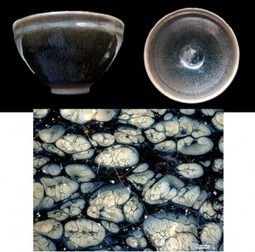 New analysis of ancient Jian wares reveals the distinctive pottery contains an unexpected and highly unusual form of iron oxide. This rare compound, called epsilon-phase iron oxide, was only recently discovered and characterized by scientists and so far has been extremely difficult to create with modern techniques.
"What is amazing is that the 'perfect synthesis conditions' for epsilon-phase iron oxide were encountered 1000 years ago by Chinese potters," says Catherine Dejoie, scientist at Berkley Lab's Advanced Light Source and ETH Zurich. The study, published May 13 in Scientific Reports, could lead to an easier, more reliable synthesis of epsilon-phase iron oxide, enabling better, cheaper magnetic materials including those used for data storage.
The study was performed by an international team of researchers from China, France, Switzerland, and the United States, using a variety of analysis techniques at Berkeley Lab's Advanced Light Source, the Stanford Synchrotron Radiation Lightsource at SLAC National Accelerator Laboratory, and the Centre d'Elaboration de Matériaux et d'Etudes Structruales in France. In addition to Dejoie, Berkeley Lab scientists Kai Chen, Martin Kunz, Nobumichi Tamura and Zhi Liu were also authors on the paper.