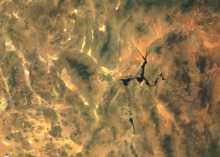 To celebrate the 40th anniversary of Landsat, Google releases time-lapse video and live surface imagery. Watching Vegas expand, as its own Lake Mead shrinks, makes for fascinating viewing.
I confess that waking up today, I didn't wonder why I'd forgotten to send Landsat a birthday card.
However, it seems that the Earth-observing satellite has been floating and watching for 40 years now.
Though it doesn't seem to have quite deserved a doodle, this birthday has deserved something just as visually rich: the release of live imagery of the Earth's surface by Google, as well as some fascinating time-lapse video.
I am grateful to 9to5Google, which discovered these mind-enveloping images.
Personally, I was enchanted by one video that showed the changes in Vegas over the years.
No, it doesn't show all of the latest developments on the Strip. Instead, you can watch Lake Mead shrinking as Vegas expands, which is quite some show.