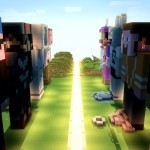 The modding community for Minecraft is already colossal and responsible for a huge volume of quality output.
But the lack of official modding tools has meant the community's offerings have been disparate, inconsistent, difficult for Minecraft's less techy players to use and occasionally dangerous.
The solution is to build an official mod API, enabling Mojang to endorse well-tested mods and offer them through a central repository in-game.
"Hopefully they will be easier to install and less prone to destroy your game," says Markus 'Notch' Persson, Minecraft's original creator.