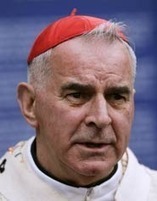 Questions for Michael Moore as UK Vatican delegation snubs Cardinal Keith O'Brien...
Don't anyone imagine that this was simply an oversight. These occasions simply don't happen without months of meticulos preparation by experts of protocio from both sides.
We can expect to see more and more of this kind of thing as increasing efforts are made to minimise Scotland's presence in diverse ways both obviously significant and apparently trivial. It's part of the same process as the side-lining of Scottish politics and culture by the BBC.
It's the British way of doing things.