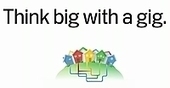 Google Fiber today announced they were opening up registration for their speedy 1 Gbps service in Provo, Utah. Pricing for services will be the same as previous launches ($70 for symmetrical 1 Gbps, $120 for 1 Gbps with TV, and 5 Mbps service for free for 7 years) with one exception: because of the pre-existing Veracity infrastructure there, the install fee for the free tier is just $30.


"A Google Fiber blog post notes that sign ups will mirror previous launches by staging deployments into "fiberhoods," and directs users to sign up for service here.

"We can't install fiber to everyone in Provo all at once, so we're going to work in waves, starting with the North Park area next month and finishing in the Foothills area hopefully by the end of this year," notes Google."

As noted previously, Google Fiber gave first dibs to Provo users who were already connected to the existing Veracity FTTH infrastructure there, given the legwork and expense of getting those users online was minimal.
Via
Chuck Sherwood, Senior Associate, TeleDimensions, Inc