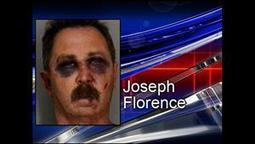 Lakeland, Florida -- He was beaten almost beyond recognition by two Lakeland Police officers and now he has filed a federal civil rights claim against the officers, the City of Lakeland, and the current and former police chief.
The man filling the suits, Joe Florence, blames a young police officer who he says didn't have enough training for losing his cool and repeatedly striking him in the face.
It happened two years ago as Lakeland Police officers were serving a trespass warrant. After receiving the trespass warning -- because he had mowed and watered his neighbor's lawn -- Florence started to go inside his home.
Florence remembers, "and I put my hand on the door knob and that's when the officer, the male officer, I don't know who he is, went off on me."
Florence says during the beating, which was photographed by his wife, officers Heather Freeman and Nicholas Ivancevic tasered him and smashed his face into the concrete sidewalk...
(click pic to watch GRAPHIC video)
Via
Billy Corben