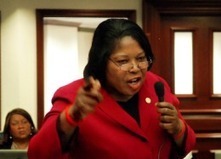 TALLAHASSEE (CBSMiami) – Days after a report concluded red light cameras decreased crashes at most intersections where they are installed, a South Florida lawmaker filed legislation to repeal the law allowing their use, the News Service of Florida reports.
Rep. Daphne Campbell, D-Miami, filed legislation Friday seeking to end the use of the cameras, saying they unfairly dole out tickets to people who can't defend themselves, noting that malfunctioning cameras can't be cross-examined.
Since state law was changed in 2010 to allow local governments to use the cameras to catch red light runners they've been under attack. A repeal effort was mounted starting the very next year in the Legislature.
Campbell's legislation (HB 91) would repeal the state law that authorizes their use. The law also sets out how the money from such tickets is allocated. Before there was a state law, some local jurisdictions used them, but there was considerable confusion about whether they were legal. Even since the law has been passed, their use has continued to be challenged in court.
"The red light camera companies exploit victims to push Florida laws to gain millions," Campbell said in a statement. "People are presumed guilty by the picture of the camera. The corporations are the ones making the money..."
(click pic to continue reading)
Via
Billy Corben