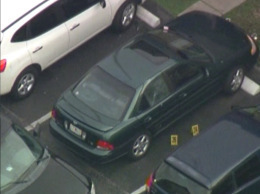 MIAMI (CBSMiami) – Miami-Dade Police say a fight at Miami International Airport began a series of events that led to a man's death during a police-involved shooting Tuesday afternoon in West Miami-Dade.
The widow and stepdaughter of 47-year-old Alexis Suarez say police overreacted and did not need to fire their weapons.
"This is the biggest crime that I've ever seen in front of me. I swear this is the biggest crime," said Suarez's widow Maricel Dieguez.
When asked if the shooting by Miami-Dade Police was justified, she said, "No absolutely not. They left him there in the car. I'll do whatever I need to do, as long as justice happens."
Suarez worked as a subcontracted unarmed security guard at Miami International Airport. Miami-Dade Police Detective Roy Rutland said Suarez was the subject of an investigation into a fight at the airport that sent a man to the hospital for his injuries. Rutland said officers went to Suarez's home apartment complex at 1907 Southwest 107th Ave. to serve an arrest warrant for aggravated battery.
Police say Suarez did not go willingly, and raised a semi-automatic handgun at officers. Officers opened fire, striking Suarez.
"My stepfather worked in the airport and he had a license for a gun," she told CBS4's Peter D'Oench. "They have not explained to us and why he ended up there. He had an argument with someone at the airport and then he got home and the next thing you know, they were firing at him."
"He didn't even get the chance to do anything or get out of his car," she said. "They didn't even scream at him. I did film some of the scene with my telephone but the cops took it away from me..."
(click pic to watch video)
Via
Billy Corben