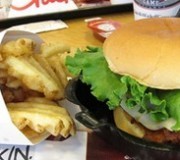 The head of public relations at Chick-fil-A died Friday morning of an apparent heart attack, according to the company.
The employee is identified as Donald A. Perry, the company's vice president of Corporate Public Relations.
His death comes as Chick-fil-A finds itself embroiled in a public relations fiasco with the gay community and supporters of same-sex marriage protesting the company because of statements made by company president Dan Cathy.
"We are saddened to report the news to you that our dear friend Don Perry, vice president of public relations, passed away suddenly this morning," she said. "Don was a member of our Chick-fil-A family for nearly 29 years."
Martinez added: "For many of you in the media, he was the spokesperson for Chick-fil-A. He was a well-respected and well-liked media executive in the Atlanta and University of Georgia communities, and we will all miss him."
Perry joined Chic-fil-A in 1983, according to information posted on the website of Hillcrest Church of Christ. He became an elder of the church in 1997.
The church biography said Perry "enjoys leading his church fellowship cell group, as well as working to help maintain harmony in the congregation."
"One of the challenges sometimes is helping to reconcile differing views among members," Perry said, according to the church, "but we work to keep unity of the faith..."
Via
Billy Corben