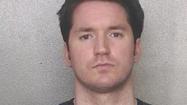 Via Sun Sentinel:
A Palm Beach County man who pleaded guilty to threatening to kidnap a local woman committed suicide in federal custody last week just days before he was to be sentenced, one of his attorneys confirmed Sunday.
His attorneys were told that he was in custody at the Federal Detention Center in Miami when he took his own life but they have not been given details of what happened, his attorney Michelle Suskauer said.
Petersmarck, of Palm Beach Gardens, was scheduled to be sentenced at 11:30 a.m. Monday in federal court in Fort Lauderdale. He was facing a maximum of 20 years in prison but sentencing guidelines recommended six to seven years.
Psychologists and family member wrote in court records that he had a history of severe depression and suicidal and delusional thoughts they felt contributed to his criminal acts.
"I'm not sure why somebody who had this history and was on medication was not supervised more closely," Suskauer said.
A U.S. Bureau of Prisons spokesman in Washington, D.C., confirmed an inmate suicide last week in Miami is under investigation. He referred questions to detention center staff who could not be reached Sunday despite several attempts by phone...
(click headline to continue reading)
Via
Billy Corben