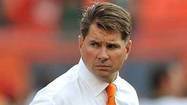 Via Sun Sentinel:
GREENSBORO, N.C.— As a football coach, Miami's Al Golden prepares for the unexpected.
Still, he said the allegations made against his program in a Friday news report was enough to catch him off guard.
Making his first public comments since a report from Yahoo! Sports alleged he knew infractions were being committed early in his Miami tenure, Golden expressed his disappointment in the story.
"You're talking about your name and I was terribly disappointed for my family, my parents, my brothers, my wife, my children to be exposed to something like that, and I stand by my statement," Golden told the Sun Sentinel at the ACC Kickoff in Greensboro, N.C. "There will be a time when I can defend my integrity and the type of program that I run and will continue to run, but now is not the time for that. … I will also stand on my record in this business..."
(click headline to continue reading)
Via
Billy Corben