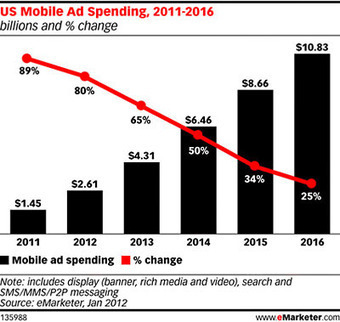 The Radio Advertising Bureau has put together a Tuesday morning panel at the 2012 NAB Show titled "Is Mobile Marketing the Future of Advertising in Radio?"...
John Potter, vice president of training at the Radio Advertising Bureau, cited overall mobile ad revenues for 2011 at more than $1 billion. "And it's projected for huge increases over the next five years. Mobile is off to the races."...
In addition to providing the user the ability to tune in any station's audio streams, a smartphone brings user interactivity and pictures — stills, videos or graphics — to the screen. This visual element can present added value to an advertiser...
"At the end of the day, the ability of a radio station to get their icon on the desktop of a person's smartphone is the best branding you can have. It's akin to having a pushbutton on a car radio."
As to some features that a station can add through an app, Jacobs listed links to podcasts, videos, news, schedules, social media, the last-five-songs, places for listeners to post pictures from station events and more...
Listening to Internet radio with mobile devices is a parade that's well underway. The trick for radio is to get out in front of it.